Typical Applications for ISD Print Spool Appliances:
Workgroup solution for small to medium businesses
Decentralized sprint spooler in large businesses and organizations
Outlets and branch offices without a central server
WAN environments with complex infrastructures
Server-based computing environments (Citrix Presentation Server, Windows Terminal Services)
Environments with desktop virtualization (VMware, Citrix)
Operation as ThinPrint .print Gateways for up to 150 network printers (depending on ISD model)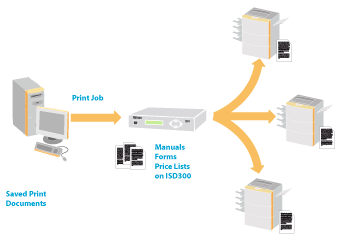 ISD Intelligent Spooling Devices
are easily and quickly installed, configured, and administrated.
efficiently spool print jobs and manage network printers / print queues.
significantly relieve server resources and network traffic.
keep print data traffic local.
provide for the high availability of all printing services at all times.
offer security on all relevant aspects of network printing.
offer fast and secure backups, extremely fast reboot.
require almost zero maintenance.
offer low investment and follow-up costs (comparatively cost-efficient initial investment, no additional hardware like keyboard, mouse, monitor required, no additional software licences).
are equipped with many more useful features!