At a glance
Enterprise AirPrint® Server
primos is a universal, mobile printing solution from SEH which has been developed for professional business use. It combines innovative hardware and software in one compact device: simply print any documents, graphics and pictures straight from your iOS device.
primos is an Apple® AirPrint® certified print server. More info about AirPrint®
Secure business features: data encryption, authentication via directory services, print over subnets
Connect up to 10 AirPrint® network printers
3 year warranty plus warranty extension for a total of 60 months
Description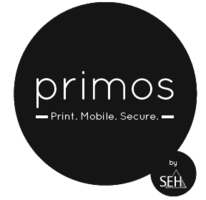 primos can do much more than printing: expand your AirPrint® with professional features such as user authentication or allocate user rights with Active Directory® support. Additionally, protect print jobs with Secure AirPrint® and overcome subnet boundaries with Wide-Area AirPrint®.
Other benefits include:
No cloud
No need for any apps
Made in Germany
Tech Specifications
Features:

1 × RJ-45 (IEEE 802.3 (10BaseT, 100BaseTX, 1000BaseT))
1 × USB 2.0 (type A connector) for future use/service
Connects up to 10 network printers
SEH primos App: Microsoft® Windows (Windows 7, Windows 8, Windows 10), Apple® (from OS X® 10.7.x)
Primos Web Control Center (monitoring, configuration, administration, firmware updates etc.)
Regular software updates, technical support worldwide
Up to 60 months free warranty
Security:

Encryption: SSL 3.0 - TLS 1.2, HTTPS, IPP Secure, Secure AirPrint®
Authentification: 802.1X (EAP-MD5, EAP-TLS, EAP-FAST, EAP-TTLS, PEAP)
Device & Port access control
Certificate management: self-signed certificate, certificate request, CA certificate and PKCS#12-certificate
Password control
Supported Directory Services: Active Directory® and OpenLDAP®
Supported Apple® Devices: all iOS devices from iOS 4.2 and all Mac® devices from OS X® 10.7.x