High Performance USB Device Server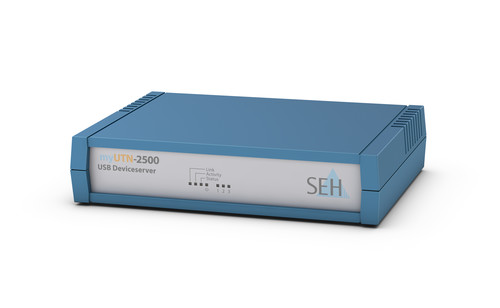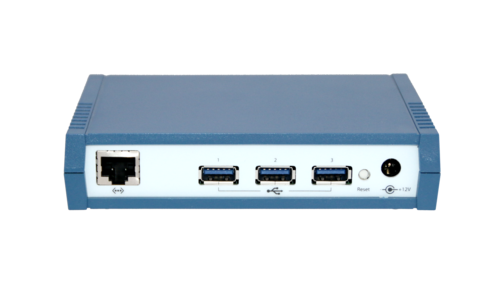 At a Glance
New: Isochronous USB mode: transfer of audio or video data streams
High performance device with 3 USB 3.0 SuperSpeed ports
USB port 3 as charging port (e.g. for mobile devices)
Fastest transmission of USB data from the USB device to the client
Ideal for virtualized environments (VMWare, Citrix Xen or Microsoft Hyper-V)
Ideal for server-based environments (like Citrix XenApp and Microsoft Remote Desktop Services/Terminal Services)
36 month of guarantee (upgradable to 60 month)
Regular software updates, technical support worldwide for free
Description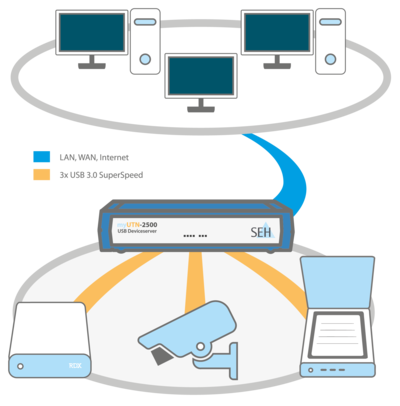 The Business Solution for USB Independance
The myUTN-2500 Deviceserver integrates almost every USB device into all common network types — the fast and easy way. The myUTN-2500 USB Deviceserver is a "plug&play" solution: Once the device is embedded into the network, you can manage the connected USB devices transparently via the associated software SEH UTN Manager — just as if the USB devices were locally attached to the PC (point-to-point connection).
Use a great variety of USB devices with control and flexibility via the network, such as external hard disks, flash drives, scanners, gauges, medical equipment, RDX removable disks, multifunction peripherals, cameras, telephone systems and many more!
Tech Specifications
Features

Gigabit Ethernet (10/100/1000 BaseT/TX/T)
3 x USB 3.0 Ports (SuperSpeed)
USB Port 3 as charging port (CDP – Charging Downstream Port)
VLAN (802.1Q)
SEH UTN Manager for fast and simple installation
SEH UTN Manager (connection management) for:

Microsoft Windows (32/64-Bit; Windows 10 or later, Server 2012 R2 or later)
macOS 10.9 or later *
Linux (Debian 10, Ubuntu 18.04, Red Hat Enterprise Linux 8, Oracle 8, CentOS 8, SUSE Linux Enterprise 15.1, openSUSE Leap 15.1)**

myUTN Control Center (configuration, administration, monitoring and maintenance via browser)
Regular software updates, technical support worldwide
Free warranty for up to 60 months

*macOS 11.x (Big Sur) limited USB device compatibility; not executable on Apple Silicon (Apple M1 Chip) based Macs

**A successful installation cannot be guaranteed due to the multitude of Linux distributions! Install at your own responsibility.
Security

Encryption: SSL 3.0, TLS 1.0/1.1/1.2, HTTPS
Authentication: 802.1X (EAP-MD5, EAP-TLS, EAP-FAST, EAP-TTLS, PEAP)
Certificate management: self-signed certificate, certificate request, CA certificate, PKCS#12 certificate, S/MIME certificate
SNMPv3
TCP port access control
Device access control (password protection, session login)
USB HID class blocking
Port key control
Notification service
USB port deactivation
Extras
UTN Manager is a custom developed SEH software for all UTN products. Access and manage all USB devices connected to the UTN product via UTN Manager. UTN Manager offers a variety of features and actions to simplify and customize the use of your USB device. Find out more!
M05080 (EU)
M05081 (UK)
M05082 (US)