Technology Alliance Partner Program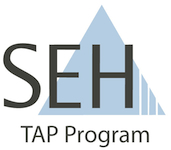 The Technology Alliance Partner (TAP) Program is geared towards all software companies which are interested in a development and marketing partnership with SEH in the areas of innovative technologies and products in the field of software copy protection mechanisms. For an overview of all our TAP partners please visit Current Partners.
With our TAP Program you will receive special recognition as an exclusive SEH TAP Partner. Your company logo will be included on a variety of marketing materials including: broshures, data sheets, roll-ups etc. Additionally, your company description will be featured on our website and a special news story of our partnership will be placed online. This program is free of charge.
Contact and Information
We look forward to your participation in our "Technology Alliance Partner" program. Do you have any questions or concerns? Frederik Hennig looks forward to your email (f.hennig(at)seh.de) and can be reached by phone at +49-(0)521-94226-22.