ThinPrintReader TPR-10 and Personal Printing
The SEH ThinPrintReader TPR-10 is the optimal addition to Personal Printing. This solution offers a maximum of security and high flexibility. This special authentication device can be implemented into every network infrastructure. The ThinPrintReader is printer manufacturer-independent, so it fits every output device in your network, regardless of its model or age. In this way, the printer pool can be easily converted into several Personal Printing devices.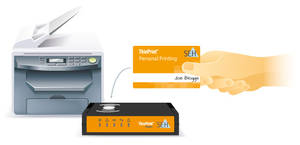 Authenticates at a network printer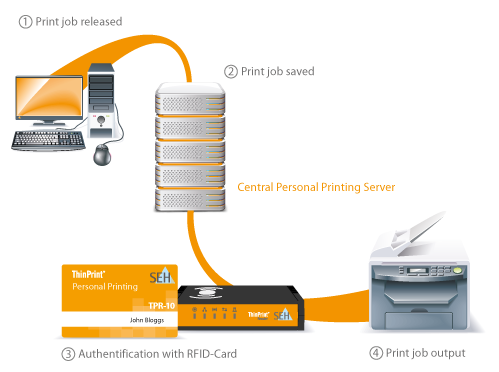 With its contactless card technology and its implemented ThinPrint Client, the TPR-10 is the easy way to transform any network printer into a Personal Printing printer.
With the ThinPrint Personal Printing technology, print jobs are sent to the central print server and held. Then, once a user successfully authenticates himself at a network printer of his choice using the TPR-10, the printer prints out the print job.
If there are already smart-cards in the company, just ask our support about the possibility of deploying these cards for Personal Printing with the TPR-10.