At a glance
Full support of all ThinPrint features
Additional features (e.g. print job buffering)
Plug & play—installation, configuration, administration, and management are easy and straightforward
Integration isn't restricted to certain printer manufacturers or models
Low costs per printer (total cost of ownership)
Description
Integrate 12 network printers into your ThinPrint environment with the TPG-125
The TPG-125 is easily connected to the network through plug & play. Then the TPG-125 and printers are to be configured. Any you're done!
Users send their print jobs to the TPG-125 which decompresses, decrypts and forwards them to the printer for printing.
Fully compatible and even more flexible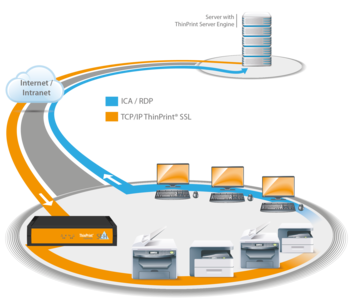 The TPG-125 is specifically developed for environments using ThinPrint technology.
Each ThinPrint® Gateway is equipped with a certified ThinPrint Client. Thus the ThinPrint® Gateways offer all basic ThinPrint functions (compression, encryption, and bandwidth management). Your network load is reduced as usual. All additional ThinPrint features (such as AutoConnect and Connection Service) can be used.
The integration of your printers is independent of manufacturer and model. Integration isn't restricted to certain printer manufacturers or models. Printing becomes even more flexible!
Easy installation, configuration, and administration significantly reduce administration costs for your ThinPrint environment.
Failover-features assure reliable and uninterrupted operation. (For example, you can save your print jobs to an optional USB flash drive if the printer is out of order. As soon as the printer is fit for service, printing continues. Your print data won't be lost!)
Get status reports and error messages via email or SNMP. With this feature you will always be up-to-date.
A comprehensive security package ensures maximum security.
Tech Specifications
Features

For 12 network printers in ThinPrint environments
Independent of manufacturer and model
Integrated ThinPrint Client
AutoConnect support
Connection Service support
Simple configuration and easy management
Print job buffering
Notification service
Parameter backup
Regular software updates, technical support worldwide
Security

SSL 3.0–TLS 1.2, HTTPS, FTPS
SSL/TLS printing: Point-to-Point encryption
Authentication: 802.1X (EAP-MD5, EAP-TLS, EAP-FAST, EAP-TTLS, PEAP)
Access control
Certificate management: self-signed certificate, certificate request, CA certificate, PKCS#12 certificate, S/MIME certificate
Device and port access control
Extras
M03890 (EU)
M03891 (UK)
M03893 (JP)
M03894 (AUS)