The chosen product is not available anymore.
Please find the corresponding successor product.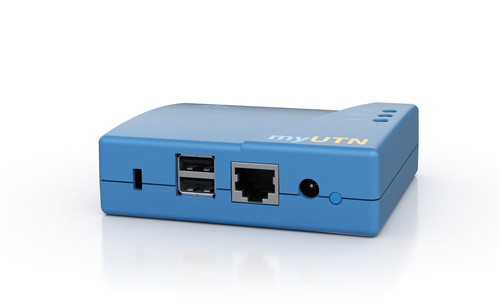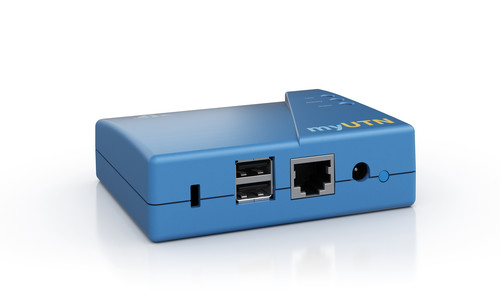 At a Glance
Cost savings for USB devices which many users need: myUTN-50a allows for devices to be shared
Virtual USB cable extension via the network for flexible and independent use of USB devices
A direct, safe point-to-point connection via the network protects USB devices from unauthorized access
Easy configuration and management via Web Control Center
Comprehensive security package: encryption, password protection, access control
Regular software updates, technical support worldwide
For Microsoft Windows, Mac OS X and Linux
3 years warranty
Description
The New USB Independence – with myUTN-50a USB Deviceservers
The myUTN-50a USB Deviceserver is a true all-rounder for using USB devices across the network. The myUTN-50a is a "plug & play" solution: as soon as it is attached to the network you can manage all connected USB devices transparently via the UTN Manager software – just as if they were attached locally. In addition, the myUTN-50a USB Device Server is equipped with many functions for using your USB devices easily across the network – location-independent and independent of USB cable lengths!
Faster, higher, stronger
The myUTN-50a is now even faster. In addition, the USB device server offers numerous functions with which you can easily use your USB devices over the network - regardless of location and without restrictions due to USB cable lengths! The myUTN-50a is the ideal solution for using your USB devices in virtualized network environments, such as Citrix, VMWare or Hyper-V. Enjoy the new freedom and maximum security offered by the myUTN-50a.
Tech Specifications
Features:

2 x USB 2.0 Hi-Speed
Gigabit Ethernet (10BaseT/100BaseTX/1000BaseT)
SEH UTN Manager for fast and simple installation
SEH UTN Manager for

Windows 7 or later except for Windows Server 2008.
Note: Windows 7 and Windows Server 2008 R2:
KB3033929 (https://technet.microsoft.com/en-us/library/security/3033929) must be installed.
OS X respectively macOS 10.9 or later
64-bit Linux systems: *.deb (for Debian-based systems) and *.rpm (for Red Hat-based systems) installation packages are available. A successful installation cannot be guaranteed due to the multitude of Linux varieties! The installation must be carried out on your own. Installation was tested successfully in Debian 8.10, Debian 9, Ubuntu 14.04, Ubuntu 16.04, CentOS 6.9, CentOS 7.4, Fedora 25, Fedora 26, openSUSE Leap 42.3, Oracle 6.9, Oracle 7.4, Red Hat Enterprise Linux 7.4, SUSE Linux Enterprise 12.3

myUTN Control Center (configuration, administration, monitoring and maintenance via browser)
Regular software updates, technical support worldwide
Free warranty for up to 60 months
Security:

Encryption: SSL 3.0, TLS 1.0/1.1/1.2, HTTPS
Authentification: 802.1X (EAP-MD5, EAP-TLS, EAP-FAST, EAP-TTLS, PEAP)
IPsender ("user list"), Access Control
Certificate management: self-signed certificate, certificate request, PKCS#12-certificate, CA certificate, S/MIME certificate
Password control
Extras
UTN Manager is a custom developed SEH software for all UTN products. Access and manage all USB devices connected to the UTN product via UTN Manager. UTN Manager offers a variety of features and actions to simplify and customize the use of your USB device. Find out more!
M05030 (EU)
M05031 (UK)
M05032 (US)
M05033 (JP)