Serviceplus myUTN-80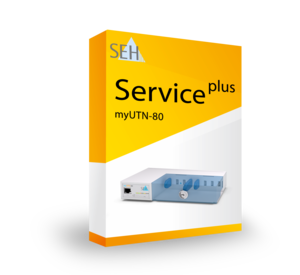 myUTN-80 Serviceplus – Warranty Extension and Advance Hardware Replacement
For our myUTN-80 Dongleserver we offer an extra service option: with the myUTN-80 Serviceplus* we offer a two year manufacturer warranty extension and we guarantee a prompt and simple advance hardware replacement in case of a device defect. Order number for this product: M0143 (EU), M0144 (US).
*Optional service at additional cost.
With Serviceplus the customary three year warranty will be extended for an additional two years. That means a total of 60 months manufacturer warranty!
In case of a device defect, which has been acknowledged by our support team, the customer will directly receive a replacement for their myUTN-80 from SEH or an authorized SEH partner. The configuration of the replacement device will be the same as the device with the defect so that the work can be continued with minimum interruptions. It's just that easy and comfortable!
Please note: the device can only be replaced by SEH or an authorized SEH partner. For more information please contact our sales team: sales(at)seh.de
To register your Dongleserver in less than a few minutes visit our guarantee registration. Note: a successful registration is necessary to benefit from the myUTN-80 Serviceplus service.
Go to the SEH website https://guarantee.seh.info/.
Create a user account.
Log in using your user profile.
Register by tying the serial number of your myUTN-80 Dongleserver to the license key in the certificate.
You will receive a confirmation of the successful registration containing all important information via email.
If you have any questions regarding the registration, our sales team (sales(at)seh.de; +49 (0)521 / 94 22 6 - 44) will be glad to help you.
To learn more about the terms and conditions please refer to the Serviceplus agreement: