IIoT allows for compatibility and collaboration of various systems
All industry 4.0 and IIoT projects, as different as they may be, share one similarity: increase in digitalization leads to an increase in required interfaces. What's the problem? Industrial computers have a limited number of interfaces as well and space in control cabinets is at a premium.
That is why solutions need to
guarantee data security and system stability,
transfer data at top speeds,
be effortlessly expandable and exchangeable,
reduce IT costs effectively,
work with your operating system, and
fit ergonomically into control cabinets.
We set standards for IIoT interfaces - and individual interfaces if required ...
Our industrial solutions are developed and manufactured in Germany. They meet all of the above requirements in a unique way. With SEH, you also have a competent service provider at your side who can adapt its solutions to your individual needs. Take full advantage of the possibilities of digitization and use our solutions innovatively to save hardware costs in the future.
Areas of Application:
Industrial Control Technology
IT technologies
Mobile Data Acquisition
Traffic Management Technology
...and many more...
Authentication with RFID card to virtualized system
Many companies use a Supervisory Control and Data Acquisition-System (SCADA) such as the WinCC (Windows Control Center) to control production sites. To save costs and ensure effectiveness, many use Remote Desktop Protocol (RDP) solutions. This software runs on a server in a server room and it is used via a panel PC on site in production.
This solution offers many advantages for the IT team: it can bundle maintenance, manage virtual systems centrally and cost effectively use the hardware in the data center. Updates can also be completed quickly and effectively.
On the production site, site operators can control and manage production over a panel PC. They can use a RFID card to authorize without signing in or entering a password. The RFID reader is connected to the work station in the server room over the INU-100 USB Deviceserver via TCP/IP, on which the UTN Manager and WinCC run.
The UTN Manage activates the RFID reader and transfers the operator's credentials to WinCC. The operator has quick and secure access to visualizations which is especially needed in hectic situations. The INU-100 also offers an option for encrypting the authentication data which in turn ensures security.
In comparison to other proprietary solutions, the INU-100 offers users freedom in selecting applicable components. This flexibility allows for cost savings and independence when designing the system. Additionally, the device server has a second USB port for a direct connection of sensors or serial to ethernet adaptor.
Benefits:
Efficiency in IT: centralized maintenance and distribution of images
Efficiency in production: faster access without password in hectic situations
Cost effectiveness through using low-cost hardware in data centers
Cost effectiveness through freedom of selection of components
Security through encryption
Flexibility through connecting other devices to device server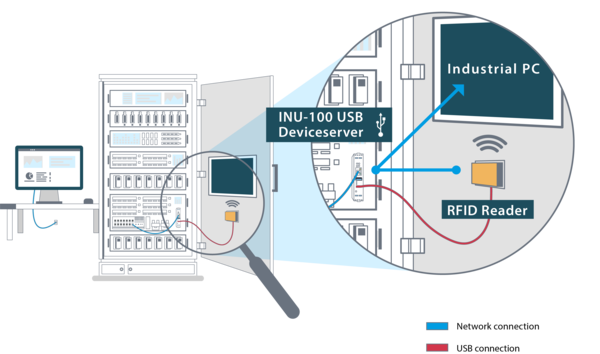 "Green Automation" in Plant Breeding
Continue to operate proven systems and modernize them at the same time
Our customer "Helix Pflanzen" was confronted with a typical IT situation: New servers with modern operating systems and current client computers had to replace existing devices during operation. However, the IT managers wanted to keep the current technology, such as irrigation and climate computers, running. This is where our solutions come into play allowing existing and new systems to interact smoothly.
IIoT projects often lead to positive additional effects for internal processes
The clever interaction of the SU-302 serial-to-USB converters with the INU-100 USB device servers connects the company's climate computers, equipment and network. Now the plants can be monitored and controlled from all branches. Additionally, central authentication on the panel PC is now possible on site (i.e. in the greenhouse). This results in a new, cost-saving, fail-safe and more efficient production process for the company.