At a glance
New: complete IPv6 support & fully encrypted USB communication between the INU-100 and its clients
Isochronous USB mode: transfer of audio or video data streams
Industrial USB Deviceserver with USB 3.0 SuperSpeed suited for industrial environments
Remote access to the INU-100 and the connected devices
Installation in control cabinets via top-hat rail housing for rails according to DIN EN 60715 (35 mm wide)
Selectable power supply (12 V to 48 V)
Reliable and highly available: Parallel connection to two power supplies, automatic configuration backup to microSD card
Integrated change over (CO) relay with automatic and event-based switching in case of defined state changes (e.g. loss of power or network) or manual switching via web browser
Numerous notifications in case of errors (via SNMP traps, email, and relay switching)
Description
The Industrial Solution for USB via Network!
The INU-100 USB Deviceserver integrates almost every non-network-ready industrial USB device into the most diverse industrial environments with TCP/IP networks. No matter if it's a dongle, a mass storage device, cameras, or sensors—almost every industrial USB device can be used flexibly and independent of location with the INU-100 just as your individual environment requires it. USB 3.0 assures data transmission at future-proof top speeds.
The INU-100 is mounted on a top-hat rail in a control cabinet. Integration is smooth as the power supply can be chosen freely. Once the device is embedded into the network, connected industrial USB devices can be controlled via remote access. The connection merely has to be established manually or automatically with the corresponding software tool SEH UTN Manager. One device can also be connected to the integrated relay and can then be controlled automatically or manually.
Reliability and high availability are of utmost importance for industrial environments. That is why the INU-100 can be connected to two power supplies and why it has an automatic configuration backup to microSD card with which its settings can be transferred to another device. Events and errors can be messaged to a person responsible for fast diagnosis and repair. Management and maintenance of the INU-100 can be done via remote access, just as required by a productive industrial environment.
Applications
Installation of sensor networks via TCP/IP linking, e.g. in industry 4.0 implementations
Installation of camera-based monitoring and inspection with cost-effective USB cameras
Installation of distributed, dongle-based multi-factor security solutions
Integration of mass storages devices into production environment TCP/IP networks, e.g. for storing sensor data or videos locally
Relay-based messages in case of INU-100 events and errors
A signaling device (e.g. optical and/or acoustic) can be connected to the relay and signal critical conditions (e.g. in case a power supply fails or if a USB device is deactivated) in order to inform a person responsible
Automatization with SNMP: Devices connected to the relay can be turned on or off with SNMP traps (e.g. a device can be turned off if the UPS fails or a fan can be turned on if the room temperature crosses a certain threshold)
USB cable extension via Ethernet network
Connection of temperature sensors
Integration of RFID readers
Connection of barcode scanners
The INU-100 is installed on a top-hat rail (rail according to DIN EN 60715,35 mm wide). Up to two USB devices can be connected directly to the INU-100. In addition, a consumer can be connected to the relay.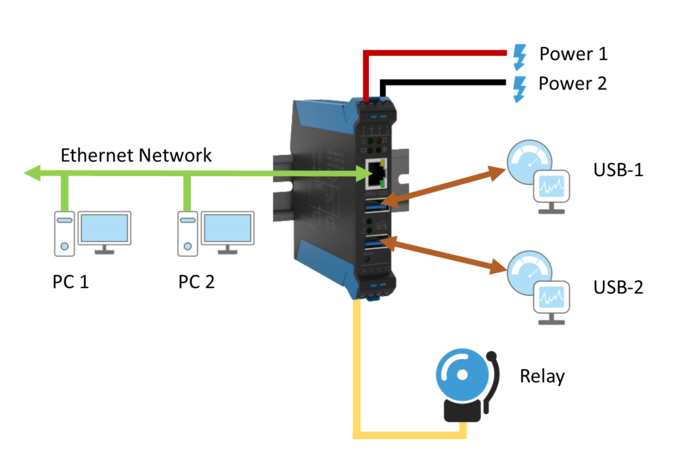 Tech Specifications
Features:

Gigabit Ethernet (10BaseT/100BaseTX/1000BaseT)
2 × USB 3.0 ports (SuperSpeed)

USB data throughput: up to 65 MB/s if one device is connected, 40 MB/s if two devices are connected

Change over (CO) relay
VLAN (802.1Q)
SEH UTN Manager (connection management) for:

Microsoft Windows (32/64-Bit; Windows 10 or later, Windows Server 2016 or later)
macOS: macOS 12 (Monterey), 13 (Ventura), 14 (Sonoma) or later
Linux (Ubuntu 22.04, Debian 12, Oracle 9, CentOS Stream 9, Open-SUSE Leap 15.5) [1]

SEH Product Manager (network device management) for:

Microsoft Windows (32/64-Bit; Windows 10 or later, Windows Server 2016 or later)
macOS 12 (Monterey), 13 (Ventura), 14 (Sonoma) or later

User-friendly configuration, administration and maintenance via web browser
Free updates and worldwide support
Up to 60 months free warranty
Security:

Encryption: SSL 3.0, TLS 1.0/1.1/1.2/1.3, HTTPS
Authentication: 802.1X (EAP-MD5, EAP-TLS, EAP-FAST, EAP-TTLS, PEAP)
Certificate management: self-signed certificate, certificate request, CA certificate, PKCS#12 certificate, S/MIME certificate
SNMPv3
TCP port access control
Device access control (password protection, session login)
Port key control using 2 port keys
USB port deactivation
Automatic parameter backup via e-mail
[1] A successful installation cannot be guaranteed due to the multitude of Linux distributions! Install at your own responsibility
Extras
UTN Manager is a custom developed SEH software for all UTN products. Access and manage all USB devices connected to the UTN product via UTN Manager. UTN Manager offers a variety of features and actions to simplify and customize the use of your USB device. Find out more!