USB Device Servers: secure, quick, easy
The USB device servers by SEH Computertechnik integrate almost any USB device securely, quickly and easily into all common network types in your company. It doesn't matter whether it is a memory stick, scanner, telephone system or multifunction device: With our usb servers, you can easily integrate the required USB devices into your LAN or WLAN and make them available to your employees throughout the network. Make your business smarter and become independent of local USB ports by using our usb over IP servers.
Simply connect the device server to the network and get started
All USB device servers work according to the "Plug & Play" principle. This means: simply connect, get started and enjoy the freedom. The connected USB devices can be conveniently and transparently managed using our SEH UTN Manager software - just as if they were connected locally to the PC. They are available reliably and with maximum security without spatial restrictions or limitations due to USB cable lengths.
Speaking of security: This is a point that you should pay particular attention to, in addition to the compatibility of the driver software and the data throughput. Would you like to connect as many USB devices as possible? We would recommend using our USB device servers. Our experts are always available to answer any questions you may have about our device servers, their installation and use.
Our USB device server portfolio
In times when solutions for remote working are increasingly required, the utnserver Pro offers numerous features that enable a safe and reliable possibility to work from home. This makes it the perfect choice for small to medium-sized companies and offices and of course for remote environments.
Features:
2 x USB 3.2 Gen 1 SuperSpeed Ports
Gigabit Ethernet (10BaseT/100BaseTX/1000BaseT (IEEE 802.3))
High data throughput of up to 80 MB/s in Gigabit networks
Maximum performance, maximum speed, maximum compatibility, maximum security - as a holistic enterprise solution, the utnserver ProMAX combines all the functions and features you need to optimize your everyday workflow.
Features:
4 X USB 3.2 Gen 1 (SuperSpeed) Ports
- 1 USB Type C
- 3 USB Type A
NBase-T Ethernet
(2.5GBASE-T, 1000BaseT, 100BaseTX and 10 BaseT)
Highest data throughput from client to USB device - up to 190MB/s
The INU-100 USB device server integrates almost every non-network USB device into the most diverse industrial environments with TCP/IP networks. Whether dongle, mass storage device, cameras sensors- with the INU-100 almost all USB devices can be used flexibly without any spatial restrictions just as required by your individual environment.
Features:
USB device server with USB 3.0 SuperSpeed for installation in control cabinets
Gigabit Ethernet (10BaseT/100BaseTX/1000BaseT)
USB data throughput: up to 65 MB/s with one connected device, 40 MB/s per device with two connected devices
Application areas and supported devices
USB device servers are also ideally suited for server-based environments (Citrix XenApp and Microsoft Remote Desktop Services/Terminal Services) and virtualized environments (VMWare, Citrix Xen or Microsoft Hyper-V).
external disks
dongles
card readers
telephone systems
barcode scanners
medical devices
mobile gauges
output devices
audio/video streaming devices
scanners etc.
The USB device servers are perfect for industrial, office and SOHO environments; even virtual environments are no problem. So, what are you waiting for? Minimize the number of USB devices you need!
Features
For all common network types: Ethernet/Fast Ethernet, Gigabit Ethernet, WLAN
Für Microsoft Windows, OS X/macOS und Linux
Best compatibility with USB devices
Easy, convenient and user-friendly configuration, administration and maintenance
Extensive security package: encryption, password protection, certificate management, authentication and more!
Worldwide technical support and regular software updates
Up to 5 years warranty
USB devices in the network: Your advantages at a glance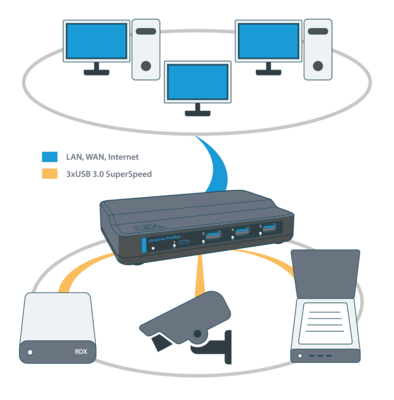 Location-independent
No location-based restrictions due to USB cable lengths, remote access to USB devices via virtual USB cable extension via the network for up to five devices
Economical
As more users can access a USB device, investment costs for USB devices can be reduced
Secure
Exclusive point-to-point connection with password protection, user list, encryption and more!
User-friendly
Simple installation, configuration, and management with Setup Wizard, UTN Manager, Web Control Center
The heart of all USB device servers: the UTN Manager
This software tool allows users to access the connected USB devices by establishing the connection between the USB device server and the respective client/workstation/server. The UTN Manager is available for Microsoft Windows, Mac operating systems and Linux.