Remote solution for the connection of local USB devices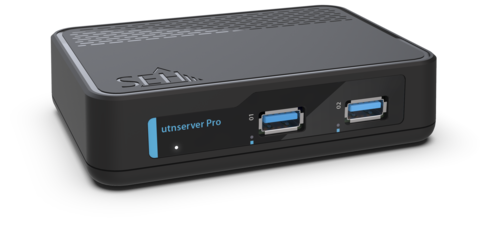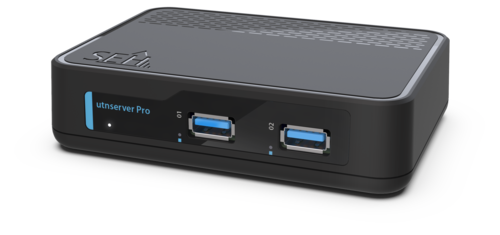 At a Glance
Key Features & Benefits
IPv6: full support, simplified configuration and administration
High data throughput of up to 80 MB/s in Gigabit networks
Isochronous USB mode: transfer of audio-video data
2 x USB 3.2 Gen 1 (SuperSpeed) Ports
Secure connection of USB devices in remote environment
A direct and encrypted point-to-point connection via the network protects USB devices from unauthorized access
Encrypted connection via LAN, VPN, VLAN and the Internet
Switching off individual USB ports prevents unauthorized use or data manipulation and offers potential energy savings
36 months manufacturer warranty (free extension to 60 months)
Free updates (complete solution: complete hardware and software package) and worldwide support)
Description
In times when home office solutions are increasingly required, the utnserver Pro offers numerous features that enable safe and reliable work from home. This makes it the perfect choice for small to medium-sized companies and offices and of course for remote environments.
Operating mode utnserver Pro
The utnserver Pro provides all types of USB devices over a network and works according to the "plug & play" principle: You integrate the device server into your network and connect your USB devices to its USB ports. Use the related SEH UTN Manager software to create a virtual USB connection to the USB device with one click. You are then abled to use the connected USB device like a locally connected one. The connection to your USB devices works via LAN, VPN, VLAN, the Internet and in server-based and virtualized environments. This means that companies can access their USB devices from any work environment and any location: convenient, high-performance and encrypted!
Best compatibility with USB devices: Use a variety of USB devices in a controlled and flexible manner via the network like RDX drives, scanners, medical devices, measuring devices, printers, cameras, telephone systems and many more.
Tech Specifications
Features

Gigabit Ethernet (10BaseT/100BaseTX/1000BaseT (IEEE 802.3))
2 × USB 3.2 Gen 1 (SuperSpeed) Ports
SEH UTN Manager (connection management) for:

Microsoft Windows (32/64-Bit; Windows 10 or later, Server 2012 R2 or later)
Version 3.3.x for macOS: 10.15 (Catalina) / 11 (Big Sur) [1]
Version 3.4.x for macOS: 12 (Monterey) or later
Linux (Ubuntu 18.04/20.04, Debian 9/10/11, CentOS 7/8, CentOS Stream 8, Oracle 7/8, RHEL 7.4/8.4, Open-SUSE Leap 15.3, SUSE Linux Enterprise Server 15) [2]

SEH Product Manager (network device management) for:

Microsoft Windows (32/64-Bit; Windows 10 or later, Server 2012 R2 or later)
macOS (10.14.x or later)

utnserver Control Center

integrated user interface for configuration, administration, monitoring and maintenance via browser

Configuration services: Email, SNMP
Regular software updates, technical support worldwide
Security

Encryption: TLS 1.0/1.1/1.2/1.3, HTTPS
Authentication: 802.1X (EAP-MD5, EAP-TLS, EAP-FAST, EAP-TTLS, PEAP)
Certificate management: self-signed certificate, certificate request, CA certificate, PKCS#12 ceritificate, S/MIME-certificate
SNMPv3
VLAN (802.1Q)
TCP-port access control
Device access control (password protection, session login)
USB port access control (port key control, device assignment, USB port deactivation)
USB HID class blocking
---
[1] macOS 11.x (Big Sur) only limited USB device compatibility.
[2] A successful installation cannot be guaranteed due to the multitude of Linux distributions! Install at your own responsibility
Extras
UTN Manager is a custom developed SEH software for all UTN products. Access and manage all USB devices connected to the UTN product via UTN Manager. UTN Manager offers a variety of features and actions to simplify and customize the use of your USB device.
M05130 (EU)
M05131 (UK)
M05132 (US)
M05133 (JP)