At a glance
Key Features & Benefits
IPv6: full support, simplified configuration and administration

5 x USB 3.0 SuperSpeed Ports, 15 x USB 2.0 Hi-Speed Ports
Central management and analysis of logged data
Monitoring and logging with connection to monitoring server services
Future-proof USB 3.0 SuperSpeed Ports- for USB mass storage device
Easy handling: Gigabit network connection at the rear side
Securing of local event log on remote WebDAV server

Save time and costs: USB dongles are safe from loss, theft, wear and tear, and damage
Extensive dongle user management
Virtual cable extension via the network that allows flexible and independent use of up to 20 dongles
Freely configurable time slots and intervals of dongle activation
Maximum reliability through two installed power supplies
Maximum network availability through two network connections
SD card for automatic configuration backup and transfer to other devices
Status display and acoustic warnings
Prepared for direct installation in a 19" server rack
Ensure warranty extension and advance hardware replacement with Serviceplus
Description
The Business Solution for Dongle Management
The dongleserver ProMAX® is the big version for server rooms and provides access to software license dongles via a network. Compared to the smaller dongleserver Pro®, the dongleserver ProMAX® offers additional reliability and redundancy with two built-in power supplies and two network connections. In addition, the parameters, passwords, and certificates are automatically backed up to an integrated SD card. The dongle server is also equipped with a multi-segment status and fault display for information at a glance. The optional telescopic slides (Rack Mount Kit 3) facilitate device access in the server room.
It doesn't get any easier!
A user establishes a connection to a certain dongle through the software tool UTN Manager and uses the license-protected software locally as needed. At this time the dongle cannot be used by another user. Once the user has finished using the software and the connection to the dongle is deactivated, the dongle is free to be used by another user. This principle can be applied to any copy-protected software and ensures that customers are always on the safe side with the dongleserver ProMAX® because the software license regulations are never circumvented.
In case of some emergency e.g. the dongle server is defect, the dongleserver ProMAX® has two installed power supplies and two network connections to ensure maximum reliability. Additionally, the configuration can be backed up to an SD card and transferred quickly to another dongleserver ProMAX®. The dongleserver ProMAX® is also equipped with a multi-segment fault display to diagnose problems such as 'SD card error' or 'power supply failure' at a glance.
Ideal for Windows, Mac OS X and Linux!
For our dongleserver ProMAX® we offer an optional service package. With the dongleserver ProMAX® Serviceplus Package not only will the warranty be extended for an additional two years (total 5 year warranty) but we also guarantee an advance hardware replacement if the device is defect so that you can continue working without any interruptions.
Suitable for:
Large companies
SaaS service providers
Cloud service providers
System houses
Big services providers (IT, accounting, insurance etc.)
Technical Specifications
Features

2 × 10BaseT/100BaseTX/1000BaseT (IEEE 802.3)
20 USB ports:

5 × USB 3.0 ports (SuperSpeed)
15 × USB 2.0 ports (Hi-Speed)

1 × SD card
SEH UTN Manager for fast and simple installation
SEH UTN Manager (connection management) for:

Microsoft Windows (32/64-Bit; Windows 10 or later, Windows Server 2016 or later)
macOS: macOS 12 (Monterey), 13 (Ventura), 14 (Sonoma) or later
Linux (Ubuntu 22.04, Debian 12, Oracle 9, CentOS Stream 9, Open-SUSE Leap 15.5) *

SEH Product Manager (network device management) for:

Microsoft Windows (32/64-Bit; Windows 10 or later, Windows Server 2016 or later)
macOS: macOS 12 (Monterey), 13 (Ventura), 14 (Sonoma) or later

myUTN Control Center (integrated user interface for configuration, administration, monitoring, and maintenance via browser)
Status display, acoustic warnings
Monitoring and logging with WebDAV and Syslog-ng export
Email, SNMP, Bonjour
Regular software updates, technical support worldwide

*A successful installation cannot be guaranteed due to the multitude of Linux distributions! Install at your own responsibility.
Security

Encryption: SSL 3.0, TLS 1.0/1.1/1.2/1.3, HTTPS
Authentication: 802.1X (EAP-MD5, EAP-TLS, EAP-FAST, EAP-TTLS, PEAP)
Certificate management: Self-signed certificate, certificate request, CA certificates, PKCS#12 certificate, S/MIME certificate
SNMPv3
VLAN (802.1Q)
TCP port access control
Device access control (password protection, session login)
USB port access control (time-based keys, device assignment, USB port deactivation)
USB HID class blocking
Notification service
Monitoring and logging
Extras

Are you a software provider and interested in a special cooperation with SEH - the expert in network solutions? Do you want to enhance your marketing strategies and get sales support? Then join the SEH "Technology Alliance Partner" Program!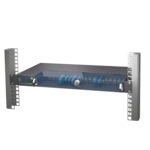 If you want to run the dongleserver ProMAX® in a server rack, use our rack mount kit RMK3 for easy installation of the dongleserver into 19 inch server racks!
UTN Manager is a custom developed SEH software for all UTN products.
Access and manage all USB devices connected to the UTN product via UTN Manager. UTN Manager offers a variety of features and actions to simplify and customize the use of your USB device. Find out more!
M05810 (EU)
M05811 (UK)
M05812 (US)
M05813 (JP)