USB Printserver
Flexible and secure usage of printing systems in any work environment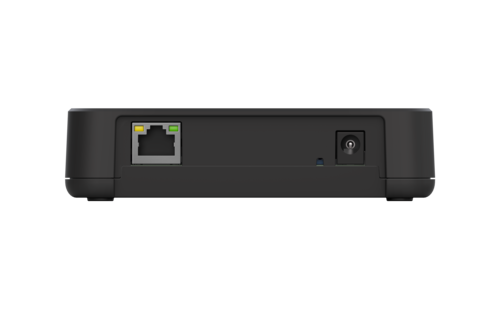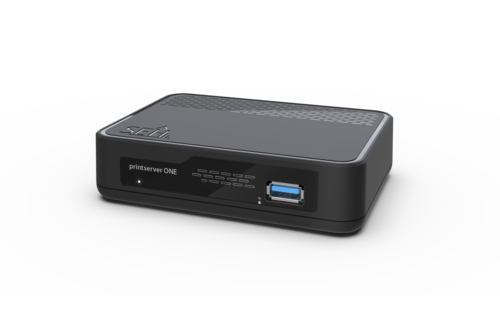 At a Glance
1 x USB 3.2 Gen 1 superspeed port
Performance-enhanced throughput rate
Compatible with almost all USB-compatible printer models
Separation of private and public networks by means of secure printing
Safe working thanks to SSL / TLS encrypted printing via LAN, VPN, Internet to the printing system
Up to 60 months free warranty
Description
Equip printing systems with a 2nd network interface
In some network configurations it may be necessary to operate more than one network interface on a printer. A network printer usually has an interface and an additional USB port. This is where the printserver ONE comes into play - simply connect it to the USB interface and the second interface is available.
The present application case shows printer access from several computers to one printer.
SECURE against attacks from the Internet: Computers in a network that do not have an Internet connection.
UNSAFE against attacks from the Internet: Computer has access to the Internet via the connected network.
With the printserver ONE it is possible in this case to use the printer safely from both sides!
For all printing systems:
Inkjet printers, laser printers, label printers, large format printers, plotters, dot matrix printers, barcode printers, multifunction devices, digital copiers and many more!
Tech Specifications
Features

Gigabit Ethernet: 10BaseT/100BaseTX/1000BaseT (IEEE 802.3)
1 × USB 3.0 Port (SuperSpeed)
SEH Product Manager (network device management) for:

Microsoft Windows (32/64-Bit; Windows 10 or later, Windows Server 2016 or later)
macOS 12 (Monterey), 13 (Ventura), 14 (Sonoma) or later

Internal printserver homepage

integrated user interface for configuration, administration, monitoring and maintenance via browser

E-Mail, SNMP, Bonjour, FTP
ThinPrint printing / ThinPrint SSL printing
Support for major printer management tools, as e.g. EpsonNet Config
Regular firmware updates
Extensive support
Security

TLS 1.2/1.3
HTTPs
ThinPrint .print Client, supports ThinPrint SSL encryption
Encryption of print data: SSL 3.0, TLS 1.2/1.3, HTTPS
Authentication: 802.1X (EAP-MD5, EAP-TLS, EAP-FAST, EAP-TTLS, PEAP)
Certificate management: self-signed certificate, certificate-request, CA cetificates
IPsender protection ("user access list")
Access control
Password protection
Extras
M04130 (EU)
M04131 (UK)
M04132 (US)
M04133 (JP)