ThinPrint Reader
At a Glance
With the ThinPrint Reader TPR-10, SEH offers a cost-effective and adaptable authentication hardware which can change every network printer into a Personal Printing printer, regardless of printer manufacturer or model. The TPR-10 is transparently connected between printer and network. In this way it does not interfere with the existing network infrastructure, such as output or monitoring systems. In addition, the integrated ThinPrint Client provides maximum security and efficiency in network printing. Cost-intensive investments are avoided, and you get the full advantages of ThinPrint Personal Printing.
Description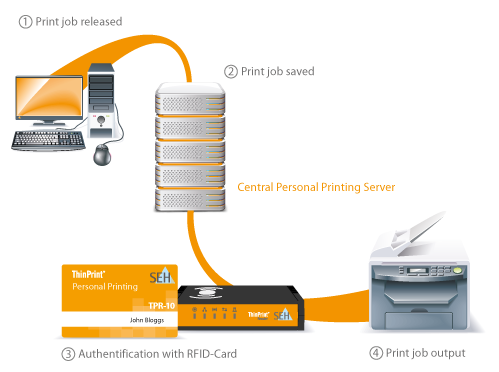 Simply print - and fetch your print job to any network printer you like
Authentication occurs directly at the printer, by using a RFID-based Smart-Card (e.g., Mifare, Felica). With the help of this contactless card technology, you release your print job with a "card-swipe" - whenever and wherever you want. Direct, secure printing with one card swipe!
RFID Card Set and RFID Tags
Your existing smart cards, based on the RFID-technology, can be used for Personal Printing with ThinPrint Reader TPR-10. For companies which have not yet implemented a smart card system but want to enjoy the advantages of Personal Printing now, we also offer the needed smart cards for your convienience.
This card set includes 20 RFID cards.
RFID Tags Supporting MIFARE Standard
If you don't want to implement a new card system, you can upgrade an already existing system with adhesive RFID tags based on the MIFARE standard.
For whom is the ThinPrint Reader TPR-10 suitable?
All companies which handle sensitive data and want maximum Personal Printing security
Companies and organisations which already have installed ThinPrint Personal Printing Server or want to implement it in the future
All companies and organisations with a big network and/or complex infrastructure which want to avoid new acquisitions and conversions
And many others!
Tech Specifications
Features

For the frequency 13.56 MHz
Easy configuration and management via the supplied TPR Control Center
Integrated ThinPrint client
Comprehensive security package: Encryption, Port-Blocking, IP-Sender-Protection, etc.
Backup management
Supports many Smart-Cards (e.g., Mifare, Felica, etc.) and their standards (e.g., ISO14443, etc.)
Regular software updates, technical support worldwide
Manufacturer independent
Security

Encryption: SSL 3.0, TLS 1.0, HTTPS, FTPs
Authentication: 802.1X (EAP-MD5, EAP-TLS,
Cisco EAP (LEAP), EAP-FAST, EAP-TTLS, PEAP)
Access Control List (ACL)
Certification management
Password protection
Extras
Order Details
M03810 (EU)
M03811 (UK)
M03812 (US)
M03813 (JP)
M03814 (AUS)
Where to Buy
SEH has a wide network of distributors and re-sellers worldwide. For a complete list of dealers and re-sellers, both European and worldwide, please visit our "where to buy" page.